Snow Cones
Description
Designer: Parvez Taj
Snow Cones, a giclee on canvas print. Part of the limited editions collection, spring 2005. High quality original contemporary artwork for the modern home.


Description:

The canvas print, Snow Cones, is part of the Limited Edition Collection, fall 2005. The designer, Parvez Taj uses film, software, UV ink and canvas/paper for each art piece. It's a giclee canvas print and each piece is signed and a limited edition of 500.
Parvez Michel, Inc. creates and sells original, contemporary art through a combination of style, quality and price. Parvez Michel connects the out-of-reach luxury art world with the modern fashion-conscious home decorator by delivering high quality artwork that is both affordable and hip. Fashioned for urban sensibilities, Parvez Michel's art reflects and responds to the contemporary lifestyle.
Born and raised in Canada, Parvez currently lives and works in Los Angeles. In addition to his short movies, sculptures, and painting, Parvez is pioneering Ultra Violet ink technologies as a fine art medium.
The canvas print is available in stretched canvas frame and stretched canvas in a floater frame.
Materials:
Giclee canvas print
Options/Finishes: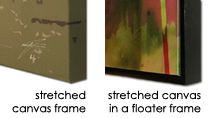 Dimensions:
W 24" x H 36"
W 30" x H 45"
W 40" x H 60", freight additional

Receive in 3 to 4 weeks!
Free shipping except for sizes 40" x 60"
Please call for faster shipping methods